Bitter Melon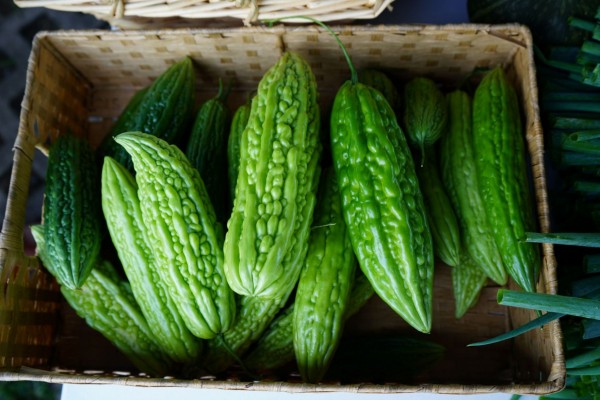 Photo credit: Thadah Wah
Bitter Melon is also known as bitter gourd, karela, and goya. True to its name, bitter melon is bitter, very bitter. Interestingly, most bitter vegetables are extremely good for you. So, if only for medicinal purposes, we should all give bitter melon a try. And maybe you'll come to love it. Bitter melon lowers blood sugar levels and is high in antioxidants. It has twice the beta carotene of broccoli, twice the calcium of spinach and is notably high in numerous vitamins and minerals. TTCF farmers recommend soaking the bitter melon in generously salted water for 10-15 minutes before using. This trick will significantly reduce the bitterness. Below you'll find a farmer's simple recipe for bitter melon. Lei Say, a former TTCF CSA farmer, also likes to cut off the stem end, use a spoon to scoop out the seeds, stuff the cavity with well-seasoned ground meat and onions, and steam them whole for 30 minutes or until just tender.
STORAGE: Store bitter melon in the refrigerator wrapped in a tea towel or paper towel in a slightly open plastic bag. Use within 4-5 days.
RECIPE: Paw Moo's Stir-Fried Bitter Melon and Egg (serves 4)
Take a bitter melon or two and halve lengthwise, remove all the seeds, and slice each half into small pieces. Thinly slice an onion. Beat 4-6 eggs in a bowl with a splash of soy sauce and salt and pepper. Heat a skillet or work over high heat with sesame or peanut oil. Add the onion and saute for a minute. Add the bitter melon and saute for another minute. Add a dash of soy sauce and saute until tender (several minutes). Pour the eggs over the bitter melon and onion and stir until just cooked. Serve over rice with hot sauce.
MORE RECIPES:
Khatta Meetha Karela: Sweet and Sour Bitter Gourd
Karela Sabzi: Bitter Gourd Curry