Meet our Executive Director, Ree Ree Wei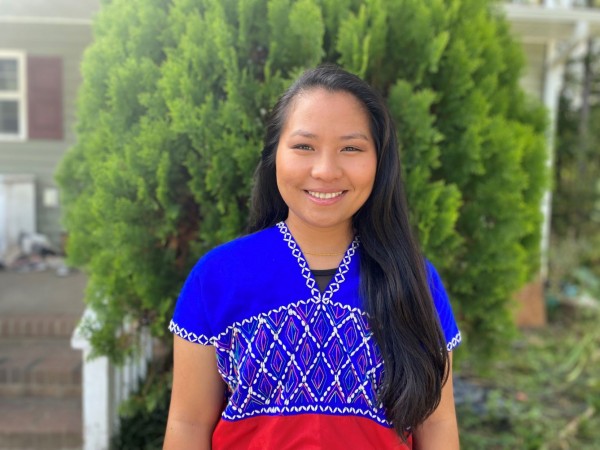 The board, staff and farmers at Transplanting Traditions are thrilled to announce Hsar Ree Ree Wei (Ree Ree), as TTCF's Executive Director. Ree Ree succeeds Kelly Owensby, who, after leading at TTCF for 11 years, has transitioned into a role of supporting Transplanting Traditions meet fundraising goals.
About Ree Ree
Ree Ree moved with her family from a refugee camp in Thailand to South Carolina in 2006 and later resettled in Chapel Hill. Ree Ree first joined the TTCF community in 2013 as a youth intern with the TTCF youth program. After graduating from Chapel Hill High School she became the Youth Program Coordinator, coordinating food justice activities for refugee youth participants. Ree Ree continued to work with TTCF while in college as a cultural consultant and interpreter, and she graduated from Guilford College in Greensboro, NC as Bonner Scholar with a degree in Community and Justice Studies and Forced Migration and Resettlement Studies. In the winter of 2021, Ree Ree joined the TTCF team as the Business Development Coordinator, supporting farmers to find innovative strategies to reach long term business and income goals.
"Resettling to this country when I was only eight (8) years old came with both challenges and opportunities," said Ree Ree. "I picked up English just a few months after arriving and, like many immigrant children, became the interpreter for my parents for social services appointments, the hospital, bank, and so forth with limited understanding of how these systems work and not knowing the terminology in Karen and English. I am grateful that my parents and the elders have trusted me in supporting our community through our resettlement transition. Because of the challenges of assimilation, my cultural traditions were fragmented by resettlement and as a young person I realized that there was much I didn't know about my own culture. My involvement in the TTCF youth program allowed me to have autonomy over what I want to know and learn about my community and how to pay it forward. Since then, my heart has been with TTCF. Whatever opportunities came my way, I took advantage of, because I want to carry on the traditions and cultural practices for my generation and future generations of Karen-Americans, and for the elders to be able to recreate homes without assimilation. Taking on this leadership role as the new Executive Director is nerve-wrecking, but I have faith that the elders, staff, and the community will trust me in the process and will support me in uplifting the TTCF mission to radically transform how we eat, live, and make decisions as a community."

Ree Ree and Kelly leading a farmer leadership meeting in October 2021.
"Ree Ree is someone I have looked up to for years both as a person and a professional" said Kelly Owensby. "The compassion and devotion she has for the refugee community alongside her experience of the challenges as well as the resilience of her community make Ree Ree a gifted leader and visionary. Working with her over the past year has already transformed our work at TTCF and we are incredibly lucky to have her step into the role of Executive Director. I am eager to see what direction the organization will take under her leadership, especially given her unique ability to co-create opportunities and solutions with her community."