GREEN GARLIC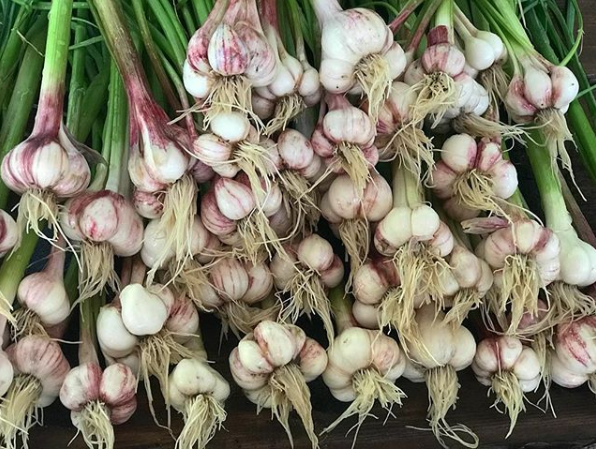 Credit: Thadah
Harvested while still young and tender, green garlic is simply garlic before it matures. It's milder, juicier and sweeter than regular garlic. Try it in an herb pesto, salad dressing, frittata, quiche, or omelet. Any of your greens (kale, chard, or Asian Greens) would also be delicious in a frittata, quiche or omelet.
RECIPE: Grain Salad with Green Garlic and Spring Vegetables
Cook a cup of your favorite whole grain (barley, brown rice, farro, etc.) in simmering, salted water until tender. Drain and set aside. While the grain cooks, make your dressing: pound, mince or blend some green garlic (the equivalent of 2-3 cloves of regular garlic) with several tablespoons of olive oil, a couple tablespoons of red wine vinegar or lemon juice, some salt and pepper. If you have a lemon, zest it first - the zest will be delicious in the dressing. Taste and adjust. You want the dressing to be plentiful and flavorful enough to bring your vegetables and grain together. Next prep your spring vegetables. You can use whatever you have on hand (e.g. snap peas, asparagus, radishes, turnips or greens of any kind). Roughly chop them and blanch them in boiling, well-salted water until tender. Toss the cooked grain with the blanched vegetables and the dressing. Add a handful of chopped herbs: cilantro, dill, parsley, mint, and chives all work well. You can also add in some toasted and chopped nuts or sesame seeds. Serve warm or at room temperature.