ITALIAN BASIL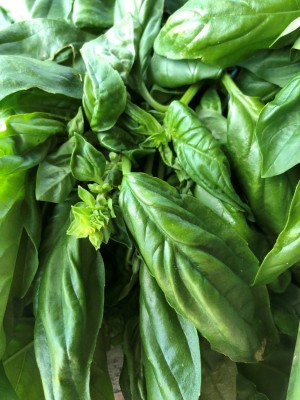 Photo credit: Betsy Jackson
Basil is commonly used fresh in cooked recipes. In general, it is added at the last moment, as cooking quickly destroys the flavor. The fresh herb can be kept for a short time in plastic bags in the refrigerator, or for a longer period in the freezer after being blanched quickly in boiling water. The dried herb also loses most of its flavor, and what little flavor remains tastes very different, with a weak coumarin flavor, like hay.
Basil is one of the main ingredients in pesto—a green Italian oil-and-herb sauce. It is rich in anti-oxidants, and some claim it has anti-cancer and anti-viral properties.
RECIPE: Basil Pesto from Food Network (yields one cup)

Ingredients:
2 cups packed fresh basil leaves
2 cloves garlic
1/4 cup pine nuts
2/3 cup extra-virgin olive oil, divided
Kosher salt and freshly ground black pepper, to taste
1/2 cup freshly grated Pecorino cheese
Method:
Combine the basil, garlic, and pine nuts in a food processor and pulse until coarsely chopped. Add 1/2 cup of the oil and process until fully incorporated and smooth. Season with salt and pepper.
If using immediately, add all the remaining oil and pulse until smooth. Transfer the pesto to a large serving bowl and mix in the cheese.
If freezing, transfer to an air-tight container and drizzle remaining oil over the top. Freeze for up to 3 months. Thaw and stir in cheese.