LEMONGRASS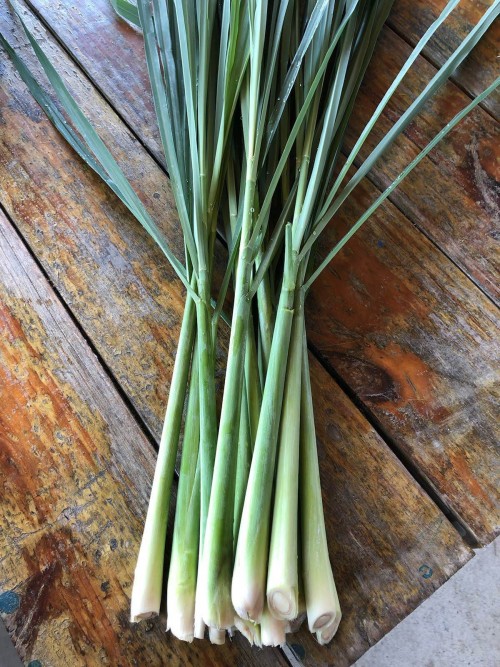 Photo credit: Vera Fabian
To use lemongrass whole, slice off the very bottom of the stalk, and peel off any dried-out layers, then smash the woody top end with the back of a chef's knife to help release some of the aromatic oils. Use whole lemongrass in soups and curries (remember to pull out the stalks before serving).

For chopping or pounding, cut off the bottom third of the plant. Chop finely or pound to a pulp in a mortar & pestle. Make this lemongrass turmeric curry paste to freeze and use throughout the winter or make traditional coconut lemongrass soup – steep the leafy tops in boiling water to make tea.
Interestingly enough, you can also use it to flavor crème brulee or steep a stalk in a bottle of vodka for cocktails (clean and bruise a lemon grass stalk, then put it in a nearly full bottle of vodka for 3-4 days, shaking occasionally, then remove the stalks). Or simply add it to your next pot of chicken soup.

STORAGE: Stored in the fridge, in an open plastic bag, lemongrass will keep for a couple weeks, if not longer. Freeze it whole to use later.
RECIPE: Eggplant Lemongrass Curry (Serves 3-4)
Ingredients:
3 Thai hot chilis, deseeded and chopped
6 garlic cloves, roughly chopped
2 inch knob of fresh ginger, peeled and chopped
2 lemongrass stalks, trimmed and chopped
2 tbsp ground turmeric
2-3 eggplants (1.5 lbs), quartered lengthways, then halved
1 tbsp olive oil
1 tbsp sugar
6 small shallots or 1 medium onion, finely chopped
1 tbsp fish sauce
14 oz can coconut milk
14 oz broth or water
cilantro, roughly chopped
Method:
Prepare the lemongrass: Peel off the outermost layers of the lemongrass and cut off the top portion of the stalk. Save these pieces to add to stock or to steep in boiling water for a tea. The remaining core of the stalk should be whitish and fragrant. Chop this up before making your curry paste.

Using a mortar and pestle or food processor, make a coarse paste of chilies, garlic, ginger and lemongrass.

Rub turmeric all over eggplant wedges. Heat oil in wok or frying pan and brown eggplants. Set aside.

Cook the paste, sugar and shallots for a few minutes and return eggplants to the pan. Add the fish sauce, coconut milk and stock or water, mix well, and bring liquid to a boil.

Reduce heat and cook gently until the eggplant is tender but not mushy---about 15 minutes. Season to taste and sprinkle with cilantro. Serve with rice.