RUBY STREAKS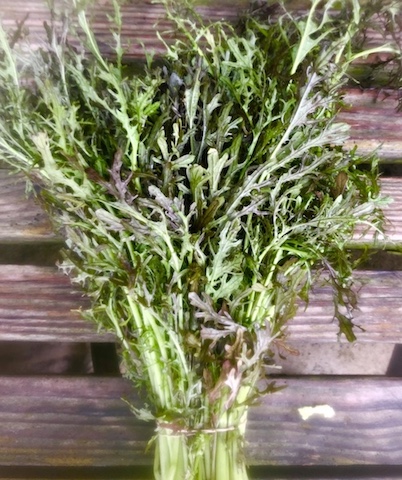 Photo credit: Betsy Jackson
Ruby Streaks is a variety of purple mustard greens with succulent, tender leaves and crisp, crunchy stems. Ruby streaks mustard greens elicit a savory, spicy and nuanced peppery flavor. Purple mustard is a common salad green, pot herb, and braising and pickling green in a variety of cuisines from Asia to Europe to South America. These greens have a cholesterol-lowering ability that is second only to steamed collard greens and steamed kale. Some people also eat it for its presumed cancer prevention properties.
Rinse mustard greens under cold running water and cut into 1/2″ slices for quick and even cooking. To get the most health benefits from mustard greens, let them sit after cutting for a minimum of 5 minutes before cooking.
STORAGE: Store unwashed ruby streaks mustard greens in a plastic bag in your refrigerator for up to a week. If you wash the leaves before storing, be sure to shake off excess moisture and store them in a resealable plastic bag lined with a paper towel or tea towel.
RECIPE: Curried Mustard Greens & Garbanzo Beans with Sweet Potatoes from RecipeLand (serves 4)

Ingredients:
2 medium sweet potatoes, peeled and sliced thin
1 medium onion, cut in half and sliced thin
3 medium cloves garlic, sliced
1 TBS + 1/4 cup chicken or vegetable broth
1/2 tsp curry powder
1/4 tsp turmeric
1 bunch mustard greens, stems removed, chopped
1, 15 oz can diced tomatoes
2 cups or 1, 15 oz can garbanzo beans, drained
3 TBS extra virgin olive oil
salt and white pepper to taste
Method:
Bring 2″ of water to a boil in a steamer with a tight fitting lid. Peel and slice sweet potatoes into ½" slices so they will steam quickly (5-10 minutes).
While steaming potatoes, slice onion and garlic. Heat 1 TBS broth in 12 inch skillet. Sauté onion in broth over medium heat for about 4-5 minutes. Stir frequently and cook until translucent. Add 1/4 cup broth, garlic, curry powder, turmeric, and mustard greens. Stir occasionally until mustard greens are wilted, about 5 minutes. Add garbanzo beans, diced tomatoes, salt and pepper. Cook for another 5 minutes.
Mash sweet potatoes with olive oil, salt and pepper. If you need to thin potatoes more you can add a little broth. Serve mustard greens with mashed sweet potatoes.
MORE RECIPES:
Mustard Greens Salad with Champagne Vinaigrette
Spring Rice Nests with Roasted Spicy Greens and Baked Tofu