SWISS CHARD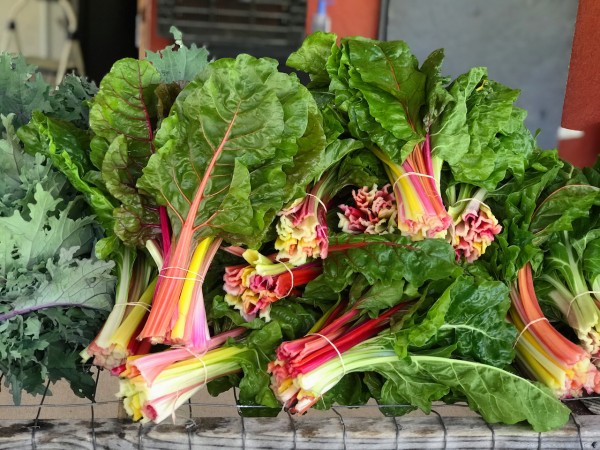 Photo Credit: Thadah Wah
Chard is a classic cool-weather crop that is in the same family as beets and is full of Vitamins A, C and E. The stems range in color from white to yellow to red and the leaves from bright green to burgundy. It has a flavor similar to beet greens and spinach, with a slightly more bitter, earthy flavor. You can eat chard raw, though it is generally best when cooked. It cooks down a lot and is great sautéed with olive oil, salt and sweet onions, with a drizzle of balsamic vinegar added at the end. Be sure to chop the stems up into small pieces and cook them with the onions, adding the leaves once the stems have softened and the onions have begun to caramelize.
STORAGE: Store chard in a closed plastic bag in the fridge for up to 5 days.
RECIPE: Crustless Chard and Bacon Quiche from Diana Rattray on the Spruce Eats
Serves 6-8

**Consider using a shredded sweet potato crust rather than going crustless! Find the recipe here.
Ingredients:
1 purple onion
(medium, about 1 cup chopped)
1 bunch Swiss chard or other leafy green (about 3 cups chopped, stems and leaves separated)
4 strips bacon (or replace with sliced mushrooms briefly sauteed in 1 tablespoon of oil)
1/4 teaspoon salt
1/8 teaspoon ground black pepper
3 cups sharp cheddar cheese (12 ounces)
5 large eggs
Method:
1. Gather the ingredients.
2. Preheat the oven to 350F.
3. Grease a 9-inch pie plate.
4. Arrange the bacon in a large skillet and place the skillet over medium-low heat. Cook the bacon, turning the strips frequently. When the bacon is browned and crisp, remove it to paper towels to drain.
5. Meanwhile, peel the onion and chop it finely.
6. Rinse the Swiss chard thoroughly with cold water. Remove the stems; chop them and set aside. Chop the chard leaves and set aside.
7. Discard all but about 1 tablespoon of the bacon drippings in the skillet. Add the onion and chard stems to the skillet and cook for about 3 to 4 minutes, or until tender.
8. Add the chopped chard leaves to the skillet and continue to cook until they have wilted. Add the salt and pepper and stir to blend. Taste and adjust the seasonings, as needed.
9. In a mixing bowl, whisk the eggs. Add the cheddar cheese to the eggs along with the chard mixture from the skillet.
10. Crumble the bacon and add it to the egg filling mixture. Stir to blend.
11. Pour the filling mixture into the prepared pie plate.
12. Bake in the preheated oven for about 30 to 40 minutes, or until the quiche is set—but still has a slight jiggle— and lightly browned around the edges.

MORE RECIPES:
Coconut Lentil Curry with Chard