WATERMELON RADISH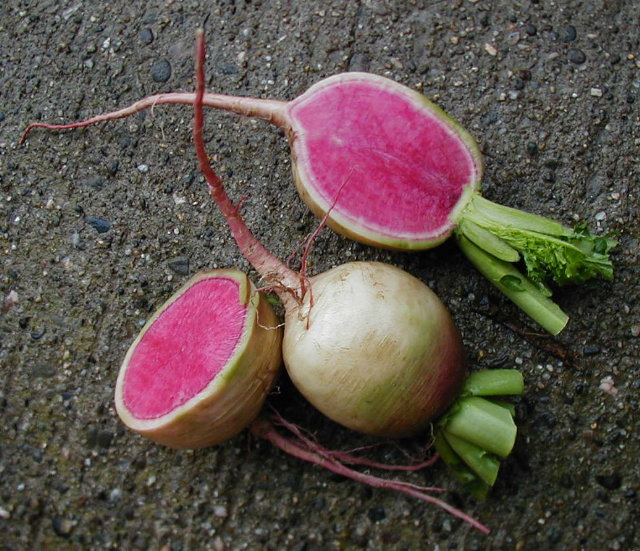 As soon as you bring home a bunch of radishes, cut off the greens and put them in a separate bag in the fridge. The greens pull water and nutrients out of the root, causing your radishes to go soft earlier than they should. The greens don't store well, so try to eat them as soon as you can after pickup. You can eat radishes raw, of course, and make a colorful salad with different kinds of radishes. As the weather gets chilly, though, try roasting radishes or including them in soups. Cooking radishes brings out their sweetness. Also, put those beautiful greens to use! They may be bitter, but that just means they're good for you. Bitter greens call for strong flavors--- try garlic, lemon, and anchovies.
Recipe from the farm:
Ginger Carrot Radish Salad
https://www.healthyseasonalrecipes.com/ginger-carrot-radish-salad/
Here's a colorful, fresh and easy way to use all those carrots and radishes you've been receiving in your CSA boxes this winter!
Ingredients:
2 tablespoons unseasoned rice vinegar
1 tablespoon tamari or 2 teaspoons coconut aminos
2 teaspoons pure maple syrup
1 teaspoon finely grated ginger root, preferably grated with a rasp-style grater
¼ teaspoon granulated garlic
¼ teaspoon salt
1 tablespoon extra-virgin olive oil
3 cups julienne cut or shredded carrots (about 5 large)
1 cup julienne cut watermelon radishes, or any variety radish including Daikon
½ cup flat leaf parsley leaves, cut into tiny ribbons or chiffonade
Method:

Whisk vinegar, maple syrup, tamari (or coconut aminos), ginger, garlic and salt in a large bowl. Whisk in oil. Add carrots, radish and parsley and toss to coat.